Over the past two blog posts I have taken you through a step by step process of how to start doing your own PR in order to stop the overwhelm of knowing where to start and what to do. In part 1 of this series, we covered how to identify your ideal client and in part 2 we covered how to uncover your story.
So at this stage you should now know:
Who your ideal client is – where they are geographically, where they are at in their daily lives and where they hang out in the media/online world.
What is it about YOU that has got you to where you are today and what are the similarities/differences between you and your target audience.
Journalists are looking for stories that will resonate with their audience and that is why steps 1 and 2 are so important. If your audience and the journalists' audience match, then you have the best chance of getting coverage.
So what is the next step?
Step 3 is all about Journalists. How do you find them? What are they looking for? How do you work with them? 
 As a business owner looking to do their own PR, there is two main ways you can find Journalists.
The first way is by proactively searching for the right Journalists for your business, by getting really clear about who they are and what they write.
The media is an open book. When journalists write stories, their name appears on the by-line in a newspaper or online article, or in the contacts page in a magazine. For broadcast you will hear the presenter's name and the production team's names will be listed in the show credits. So all of this information is readily out there in the world ready to be found, and as a business owner, it is your job to do your research.
TAKE ACTION >> Find out who they are & what they cover.
Refer back to your Step 1 tasks which were to look at where your target audience hangs out and what media they consume. Pick ONE.
a. Get your hands on this publication, and look for a list of the appropriate contributors to the articles. Take note of who they are and their job titles.
b. Look through the publication and look for appropriate articles/features that are relevant to your niche. Take note of who wrote it.
c. Collate all the relevant contacts and make note of their contact details. Usually their email addresses will be included in the publication.
d. Get on to Twitter and search for that Journalist and follow them. (try Instagram if not on Twitter!)
      2. The second way to get PR is through what we call 'reactive' opportunities, e.g. #journorequests on Twitter, where Journalists go on Twitter and put this hashtag on anything they are looking for contributors for. These are shared day after day and it is a great way to see what is current. It is also another great way to find relevant journalists for your media list!
There are paid alternatives to #Journorequests which may be useful for your specific industry that you may find useful:
General:
Sector-specific:
So once you have done your proactive research and you also regularly check #journrequest a few times a week, you will soon start to paint a picture about how these journalists are, what they cover & what they regularly feature.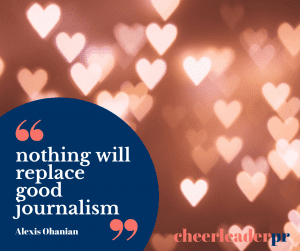 Capture these contacts and info about what each journalist covers and start your own media list – excel is great for this
This is going to be your media database which you can regularly update and refer to. I find it super useful to include when I contacted them, when they responded and what the response was so I can track my ongoing PR efforts. Include links.
So there you have it! Do some proactive research in the appropriate publications, keep an eye out on #journorequests and start building up that media list.
If you need to work on your media list, here's where you can catch the replay of my FB live session covering all of the above:  https://www.facebook.com/CheerleaderPR/videos/246159236617870/
What insights did you get from this exercise? Please share below in the comments!
For FREE weekly PR trainings come and join my Facebook group PR for Passionate Go-Getters. It's a supportive community of passionate small business owners navigating PR and self-promotion and we'd love to see you there.